Tommy

[Admin]
Last Activity

Wed, May 1, 2019 1:34 PM

Posts Made

This user has made 98 posts.
Recent Posts
Posted 2 years ago
Don't miss all of tonight's fun - Follow us on Twitch now and be notified when we go live:
https://www.twitch.tv/rebellion_official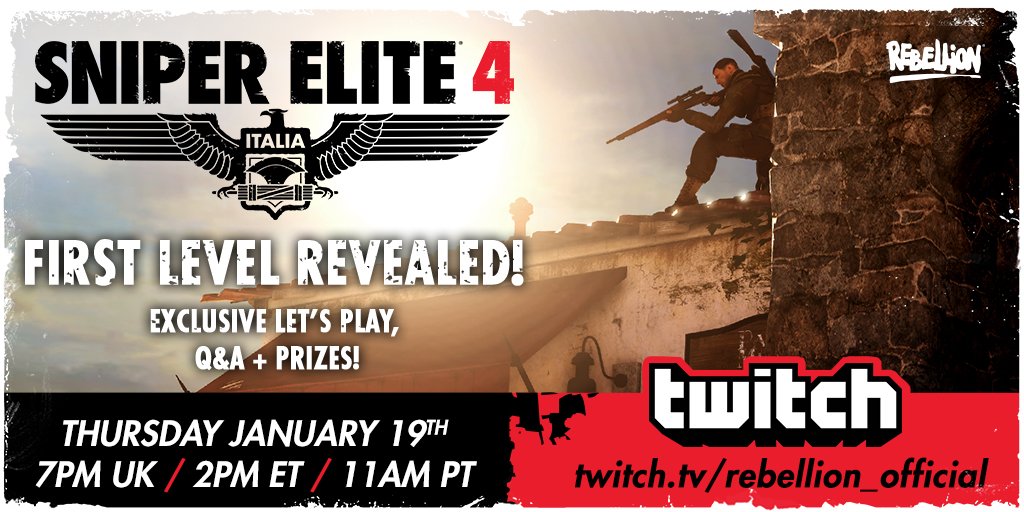 Tommy
Administrator
Posted 2 years ago
Patch 1.02 out now! PS4 Pro Support CONFIRMED!
Hey Battlezone fans! I hope you've been enjoying blowing up tanks together this last week or so – it's been great to see our baby finally out there in the wild!
So, big news today – Patch 1.02 is out! First of all, we're delighted to confirm Battlezone will indeed support PlayStation 4 Pro. Thanks to our patch, players on Pro will get an even crisper, more vibrant experience, adding to the already incredible immersion offered by PSVR!
Also – with big thanks to you, the community, for providing us with such useful feedback – 1.02 will bring a number of improvements to in-game balance, focusing on the 'EASY' difficulty setting as well as minor performance and bug fixes. We'll be continuing to listen very closely to you, the Battlezone fans, and will keeping seeking to make playing Battlezone the best experience it can be.
Which brings us nicely onto our last piece of news – and sorry, it's a bit of a tease – but we can confirm there is FREE CAMPAIGN CONTENT in the works for Battlezone. So, please stay tuned to us here on the forums, and on Twitter and Facebook for more news when we have it. And thanks again for playing Battlezone – see you out there on the grid!
Patch notes in full below!
BATTLEZONE 1.02 Patch Notes
Added PS4 Pro support
- Increased super-sampling resolution
- Improved dynamic lighting in the Cobra cockpit
- Increased reflective lighting resolution
Balancing changes
- Defend and Convoy missions are more balanced
- Difficulty randomization more even throughout campaign
- Enemy rank scaling more balanced throughout campaign
Bug, performance fixes and other changes
- Improved clarity of particle effects
- Fixed a rare framerate hitch during hangar sequence
- Fixed rare physics issue that caused players to leave game world
- Minor enemy behaviour tweaks
Tommy
Administrator
Posted 2 years ago - edited 2 years ago by Tommy
Welcome to the Battlezone forums!
For those of you interested in pre-ordering Battlezone, please refer to the following page:
Posted 2 years ago
The Battlezone forums are a place where players can interact and have discussions about several different topics. However, we ask that you follow these rules to make sure that discussions stay friendly and on topic. These rules will be enforced by administrators and moderators, and at their discretion, may delete posts without warning that do not comply. Also, failure to comply with these rules may result in a temporary or permanent ban from the forums.
No Flaming: writing hostile or insulting messages aimed at other users for their views, comments, status as a user on the site, or any other reason. You can disagree with someone's views and still be polite about it.
No Trolling: posting off topic or offensive messages with the intention to bait other users into replying. -No Spamming.
No bumping old threads. This may be over looked if the user has a legitimate reason for making the thread active.
No self bumping: posting "Bump" on your own thread to intentionally raise it to the top of the forums.
No discussions of software piracy, hacking, illegal material, or linking to these activities will be tolerated.
Do not post material that is hateful or mean towards race, religion, sex, or any other offensive nature.
Do not post any offensive or vulgar content.
Please do not hijack another user's forum thread by changing the subject. If you would like to start a new discussion, start a new topic.
Do not complain about getting banned, and do not make another account to circumvent a ban. Do not complain about other users being banned, bans are not made for no reason.
Do not complain about a message being removed. Messages are removed for a reason, if you would like to find out why a message was removed, please PM one of our administrators.
Do not use excessive ALL CAPS in your posts.
All Clan related topics must be started in the new "Looking for Players" sub forum
We reserve the right to change or modify these rules at any time at our own discretion.